Raising the federal minimum wage for fast-food workers is a hot talking point for the Left, and the issue made headlines Thursday as union-backed demonstrators nationwide staged protests to call attention to the issue.
On Thursday, Service Employees International Union-backed "Fight for $15" sit-ins and traffic blockades resulted in more than a few arrests in major U.S. cities, including New York City, Detroit and Chicago.
Roughly a dozen demonstrators blocked the street in New York City's Times Square on Thursday, according to an NBC News affiliate, and they were arrested.
"Give us $15 an hour so we can at least live," Carlos Robinson told the New York-based NBC affiliate. "That's all we want to do is live and survive and feed our families."
The nearly 150 demonstrations nationwide have the financial backing of the SEIU.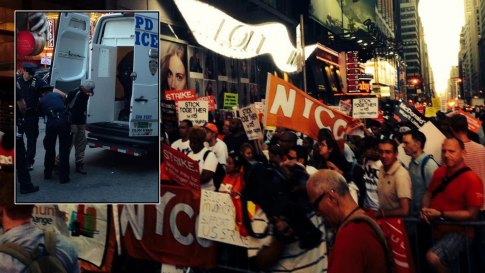 Credit: Sheldon Dutes
Elsewhere, at least 30 protesters in Detroit were arrested for not complying with police, according to CBS Detroit.
"At one point they were walking on both sides of Mack Avenue but they are now concentrating themselves in the eastbound lanes, they have those completely blocked off here, walking and holding up their signs," local journalist Bill Szumanski reported.
"The protesters who were sitting on Mack Avenue and refusing to move had a bit of a negotiating session between the police department and the organizers — that didn't go anywhere," he added. "So, police have now swooped in and what they have done is arrested at least 20, maybe 30 people. They're leading them away in handcuffs to the back of the squad cars."
Credit: Darci E. McConnell/D15 campaign
Eleven more protesters were arrested in Little Rock, Ark., according the Arkansas Democrat-Gazette.
The demonstrators had taken to the streets to block traffic, prompting several calls to local law enforcement officials.
"To my understanding they are protesting the minimum-wage law," Little Rock Police Department spokesman Lt. Sidney Allen told the Gazette, adding that roughly 60 demonstrators were peaceful.
Approximately a dozen protesters were arrested in Chicago on Thursday for — you guessed it — blocking traffic.
"I work for a McDonald's in Hyde Park. We're fighting for our rights to make $15 an hour, because we can't feed our families. We can't feed no one off $8.25 an hour," one protester, Kimberly Cotton, told CBS Chicago. "It's worth it to get arrested, because we are trying to feed our homes, feed our families, and $8.25, we can't do nothing with."
Pics coming in of #Minimumwage arrests #BREAKING more than a dozen @cbschicago pic.twitter.com/TzM8OgHOlQ

— Susanna Song (@susannasongcbs2) September 4, 2014
One McDonald's worker who joined the protest said: "If I gotta pay a fine, I'm going to pay the fine. I'm going to do whatever it takes to get this $15."
For its part, the National Restaurant Association in a statement accused the SEIU of organizing the protests only to "boost their dwindling membership."
The number of actual fast food workers who have participated in the SEIU protests is unknown, but at least one reporter in Colorado estimated that worker participation Thursday was minimal.